Large tents to provide shade or shelter in the event that it rains is a smart option to be ready for all types of weather. Tables can be set up beneath the tents or put away. We provide a variety of tent rentals and all our equipment is cleaned and inspected regularly.
Professional delivery to
Hollywood MD
and surrounding areas. Please submit a quote or contact us to be sure we service your area.
You can enjoy many benefits by renting a tent to host a party. A tent can be used to hold an outdoor party, which is a great way for people to enjoy the beauty of their surroundings and to take advantage of the weather. Additionally, a tent can provide shelter from the elements, such as rain or intense sun, which can help ensure that your party is comfortable and enjoyable for all attendees. Renting a tent has the added benefit of creating a cohesive and organized atmosphere for your event. A tent can be used to define your party's boundaries and provide separate areas for different activities such as dining, dancing, or socializing. It will make your party appear more professional and orderly. You can also manage the flow of people and keeping track of any of your supplies. Additionally, renting a tent can be a cost-effective way to host a party, especially if you don't have the space or resources to hold your event indoors. Tents can be set up in a variety of locations and can accommodate a wide range of party sizes, making them a flexible and convenient option for any event. Overall, renting a tent can be a great way to enhance the atmosphere and convenience of your party, and can help ensure that it is a memorable and enjoyable experience for everyone involved.
20'x20' High Peak Tent
from $350.00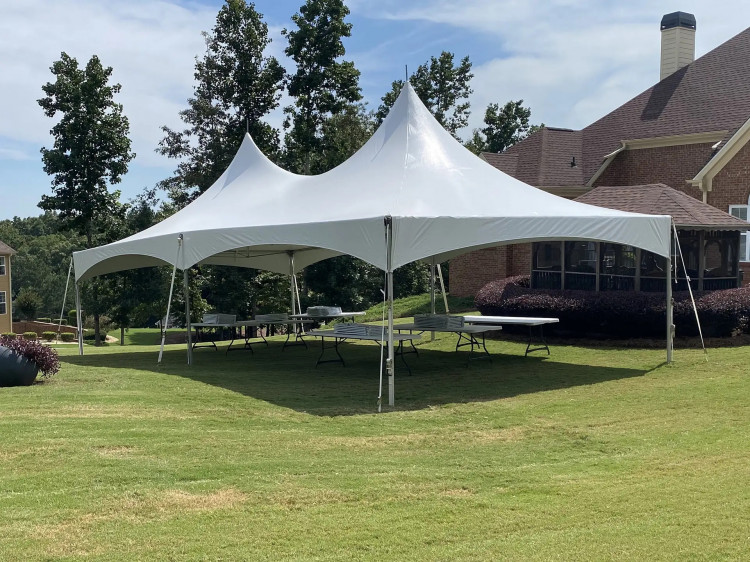 20'x40' High Peak Tent
from $675.00